Using Classworks Data to Create IEP Goals
Introduction

Creating effective IEP goals begins with understanding where your student is and what they are ready to work on. Additionally, it involves measuring progress and providing Specially Designed Instruction (SDI) for students to meet their goals. Classworks provides the data to create measurable, individualized academic goals and we make it simple to copy and paste the data into the tool of your choice! You have assessments to identify present levels of performance, standards and skills-based goals and objectives, and automated progress monitoring on the selected objectives. Want to take it a step further? Students have an individualized learning path (ILP) with the exact instruction they need to achieve goals based on their screener and weekly Progress Monitoring data. Learn more about ILPs in our
knowledge base
.
Below is an example of an IEP goal using Classworks data and step-by-step guidance on where to find the data.

An Example of IEP Goal and Objectives
Present Level of Performance for Chester Barrett

Chester's present level of performance has been generated from the Classworks Reading Universal Screener Level 5 assessment taken on 03/20/2022. Chester earned an overall score of 310 placing Chester in the 7th percentile nationally. Chester's overall grade level equivalency is 2nd grade.
Grammar/Usage/Mechanics


The performance in Grammar/Usage/Mechanics earned Chester a score of 310 which is equivalent to 2nd grade level performance.




Reading

The performance in Reading earned Chester a score of 200 which is equivalent to K grade level performance. The Reading domain is the most significant area of need.





Word Analysis

The performance in Word Analysis earned Chester a score of 470 which is equivalent to 5th grade level performance.


IEP Annual Goal - Standard

A fifth-grade reading standard is selected for the annual goal.
RF.5.4. Read with sufficient accuracy and fluency to support comprehension.

Objectives

Objectives for progress monitoring are selected at level 1 for reading due to Chester's present level of performance in reading. Once Progress Monitoring is started for Chester, his weekly probes will measure progress on the objectives below.
Ask and answer questions while reading
Identify main ideas and supporting details
Identify and describe the plot, setting, and character(s) in a story
Identify sequence of events in texts

Where to Find the Data

Present Level of Performance

Select the student's name in Classworks to view the detail of the student.

Choose Screening to view the Present Level of Performance information.

Classworks allows you to easily copy and paste into the IEP writing tool of your choice. Use the icon
to easily copy and paste the data into the tool.
IEP Annual Goal - Standard

Select the view standards button in Screening to select the relevant standard.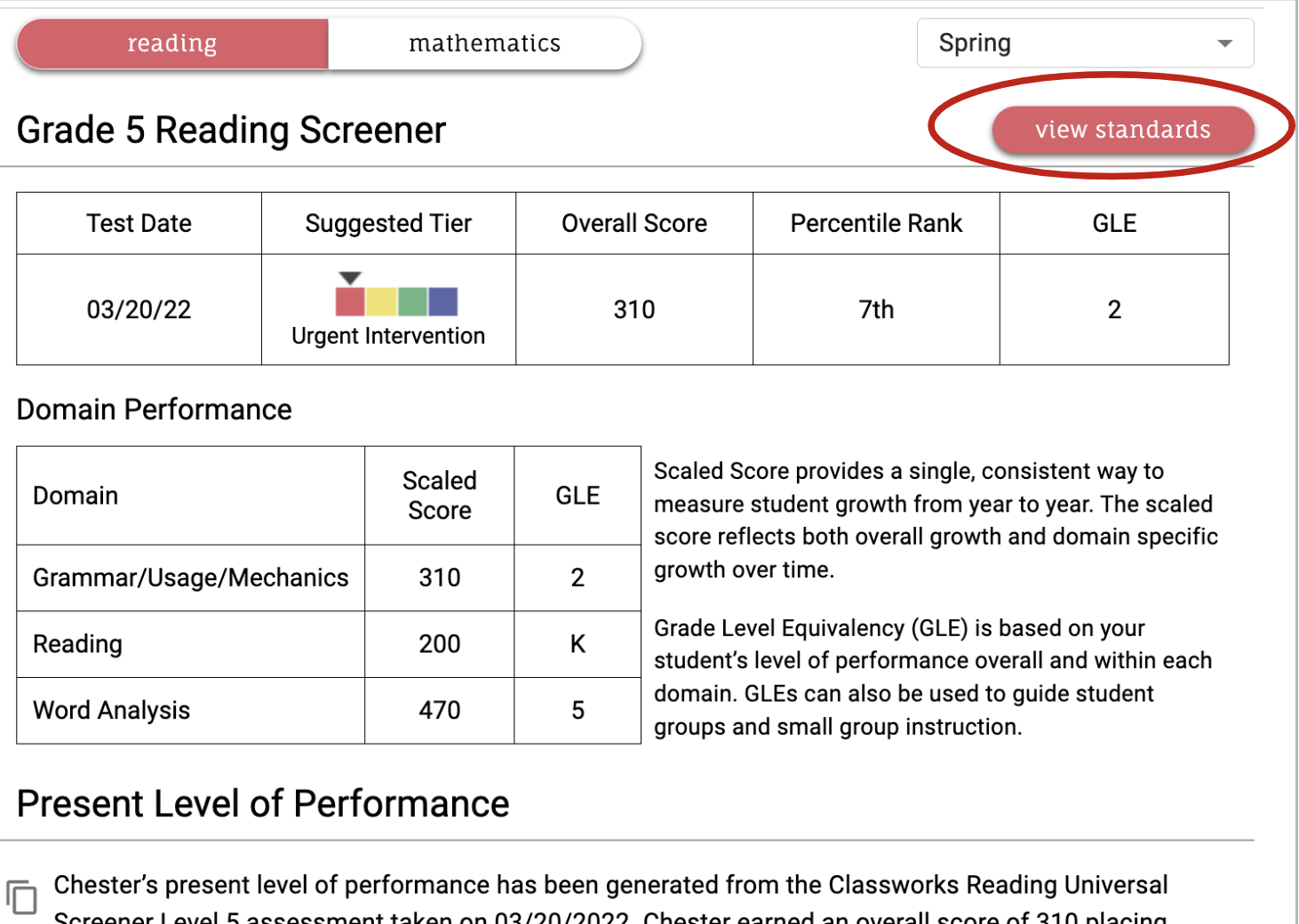 Choose the standard related to the appropriate domain based on the student's screening results.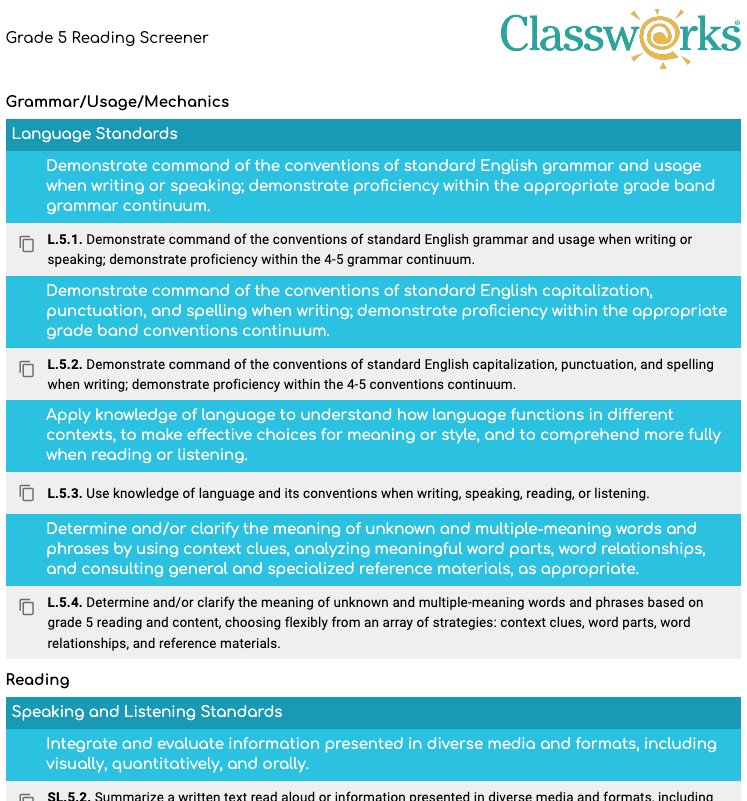 Objectives

To choose the short-term objectives go to
Progress Monitoring
. Choose your student and select Start.
Select skill based. Next, select the skill domain and level of performance. For example, for Chester, we have chosen Reading Level 1 based on Chester's Screener data. Click the blue link that says Writing IEP Goals? Please note, Classworks and NCII recommend that you choose objectives at the student's present level of performance, however, teachers can select the level of their choice.
Selecting the link takes you to a list of objectives and standards. Easily copy and paste the objectives you want to add to the IEP goal.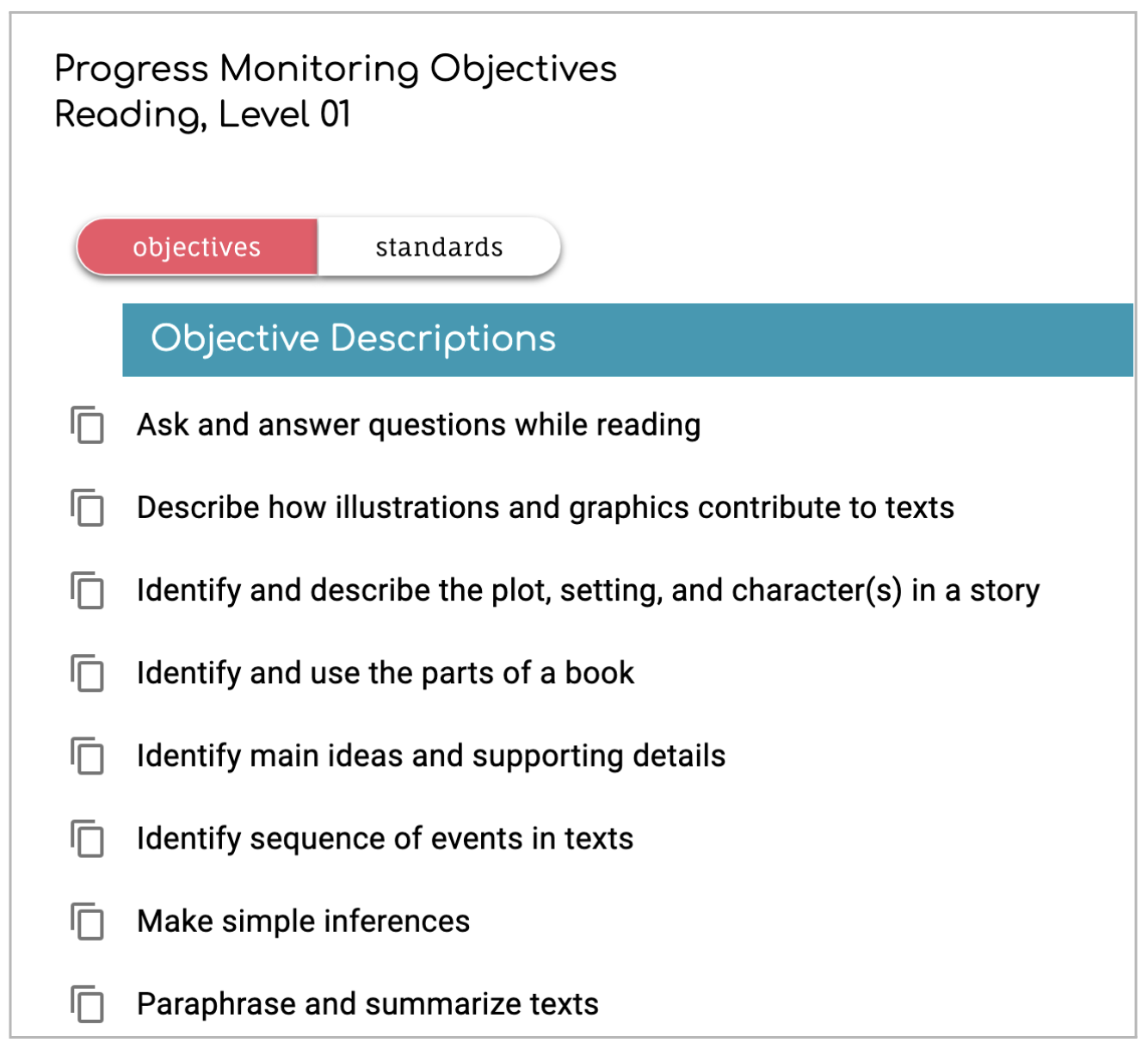 Once you've finalized your Progress Monitoring selections, click Start. The student will receive weekly probes to measure progress on your selected objectives.

View progress each week by selecting the student, clicking view detail, and Progress Monitoring.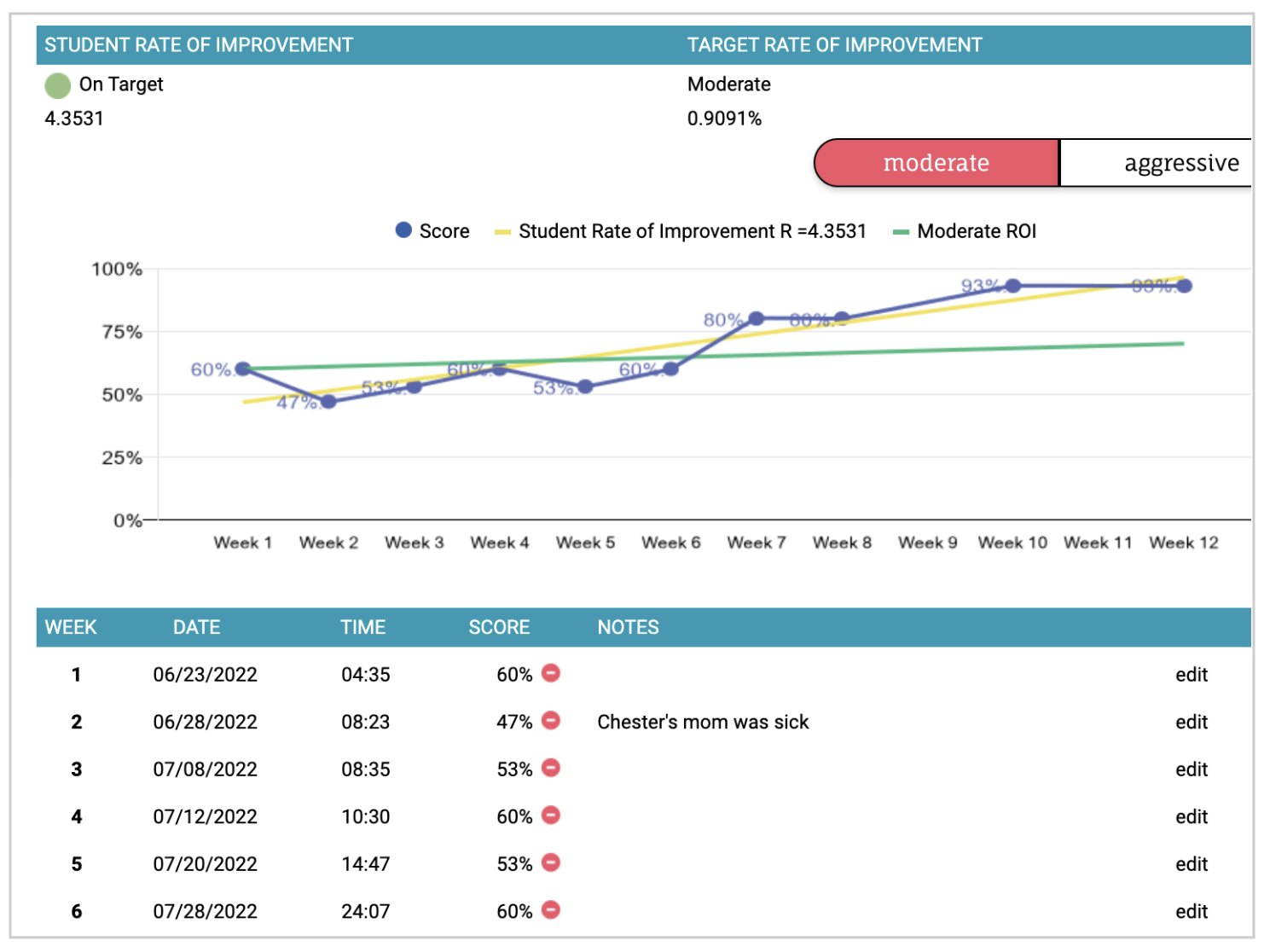 Related Articles

Using Classworks During a School Closing Best Practices

Whether it's flu season or wintery weather, there are many factors outside our control that play into student absenteeism. In some instances, students might be kept home for days at a time and away from their classrooms. Luckily, teachers can breathe ...

Using Classworks in a High School Best Practices

Classworks individual learning paths have an extremely positive impact helping students catch up to their peers! Important things to consider when using Classworks in high school: Usage must be extremely purposeful. Dedicated time in the busy high ...

Using Classworks in a Kindergarten Classroom Best Practices

Classworks is a valuable tool for kindergarteners as they develop a relationship with technology that will be foundational for the rest of their lives. Using Classworks in the kindergarten classroom enhances students' comfort level with computers and ...

Individualized Learning Best Practices

In Classworks, individualized learning and classroom instruction is where the magic happens. Classworks uses assessment data to individualize learning for all students. Based on their assessment results, each student receives an Individualized ...

Universal Screener Best Practices

Classworks includes a vertically scaled, valid and reliable assessment in reading and math for grades K-10 for screening all students three times a year. Classworks Assessments serve four main purposes: Students are identified for intervention. ...