How to disable the Incentive Program
Students in grades K-8 can earn achievements in each subject: Math & Reading/Language Arts. This is automatically enabled, however, if you would like to disable this, use the following steps.

1. Click your name in the top right then choose Manage Classworks.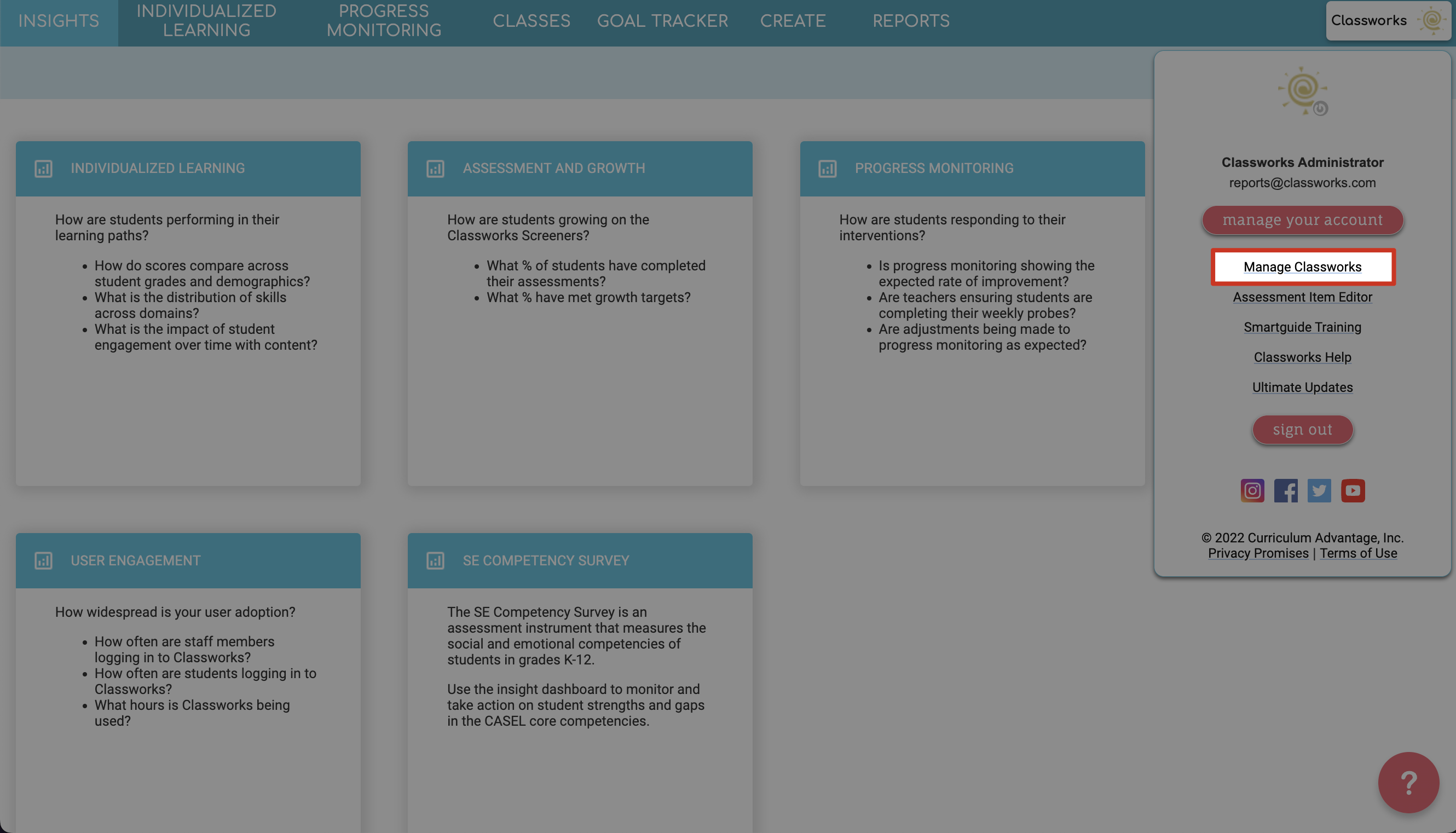 2. Click on the Utilities sub-tab.

3. Click on School Settings on the navigation bar to the left then click on the name of the school you want to disable.

4. Uncheck the Incentive Program and click Save.

Related Articles

What are Administrative Tasks?

Overview Most schools and school districts prefer to assign specific persons to perform certain tasks related to Classworks, rather than add to the tasks teachers are usually required to perform. Typically, those with Classworks administrative ...

How do I create a new teacher/staff account?

To complete these steps you must be a site or district administrator. If you do not have permission to create a new user, it is recommended to contact your site or district administrator for Classworks. If you don't know your site or district ...

How do I manage or modify existing users?

This procedure is used whenever you need to locate a specific user, view the groups and/or classes the user belongs to, edit a users' information or enable/disable/delete a user. District Administrators within Classworks can also search for and ...

Managing your Infinite Campus SIS Integration with OneRoster 1.1 and OAuth2

Overview OneRoster 1.1 is a data exchange standard designed specifically for the education sector. It enables schools to securely share data between their SIS and other educational applications, such the Classworks platform. OneRoster 1.1 defines a ...

How do I download and import i-Ready Diagnostic Results into Classworks

i-Ready Diagnostic Assessment, created by Curriculum Associates, Inc. has recommended placement levels for students that take the assessment. After each testing administration, the district will upload a newly extracted .csv with either Reading or ...